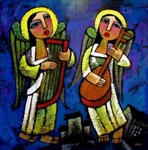 Graphic from Word to Worship.
I found a cool website where you can find contemporary worship songs by keyword, theme, or scripture reference. It's called
Word to Worship
and was created by the husband of a Director of Christian Education. I put in Psalm 51 and got about 50 song choices!
When you click on the name of the song it takes you to the details that include: CCLI song number, author, all related scripture references, and lyrics. On that page there are also links to find the song on
CCLI
Praise Charts (where you can hear it and purchase sheet music)
Music Notes (where you can hear it and purchase sheet music)
YouTube (where you can hear multiple versions of it)
It is currently the season of Lent and a few weeks ago I found myself singing The Lutheran Hymnal liturgy version of
Create in Me a Clean Heart, O God
at home. Music is one of the greatest gifts God has given us and putting scripture to song and singing it over time keeps it in our hearts for years. Switching the music up all the time to keep worship "fresh" does come at a cost. There are many contemporary songs that are just as good as the older versions and could be used in their place if you don't like some of the older, harder to sing melodies. I enjoy Keith Green's version of
Create in Me.
There are also some more contemporary songs that are redundant and don't add much to the worship experience outside of repeating the same "Jesus, you are cool" chorus 25 times. Check out this website!
Let everything that has breath praise the Lord!
(Psalm 150:6)